Fashion: Interview with Transgender Models Isis King & Benjamin Melzer
In this post, I interview two amazing transgender models, Isis King (@msisisking) & Benjamin Melzer (@egoshooter). And I got a chance to speak with Nick Adams of GLAAD about trans representation in fashion & entertainment. I also look back at several milestone moments for transgender models in the fashion scene.
On the runway
Beauty has many forms. It has no gender or race or shape. From the runway to the glossy pages of magazines, fashion designers and photographers show the world many different faces of beauty. And in the last few decades, brands and artists have increasingly featured transgender models.
Through my involvement as an influencer for LA Fashion Week (@lafw), I got to see many of the runway shows for the last two seasons. I was so pleased to see a few transgender models walking for leading designers. Landra Dulin (@theconcretechic) who does casting for LAFW, told me that she casts models who she thinks are amazing, and there are several amazing models who happen to be transgender.
This got me thinking about how far we have come, and how important it is for transgender individuals to be on the runway, in editorial, and in major fashion ad campaigns. Some designers like Marc Jacobs have made a point of including transgender models like Andreja Pejic. And fashion showcases all over the world, including LAFW, have celebrated transgender models on the runway.
Some pioneers
Tracey "Africa" Norman's story is a little known part of fashion history. She was discovered by the great Irving Penn and her face eventually was on Clairol boxes around the country. The Cut resurfaced her story last year. Her career came to a halt when an associate disclosed her gender history without her permission. Previously, Tracey had been cast as a woman without any questions. After that moment, she could not find any work in the industry.
Caroline Cossey, recently featured in HBO's documentary The Trans List, was a supermodel in the 80s. She was an incredible model featured in Playboy (before and after her gender history was shared without her consent). And she was a sex icon as a Bond girl. She was targeted with hate after her gender history was published, and magazines, interviewers like Howard Stern, and others made her life into a spectacle.
These were transgender models who were forced to be openly transgender in the industry against their will. Nevertheless, their stories are powerful examples of transgender models who made it to the top – and they paved the way for many more transgender models to come. We can only imagine that there have been many other transgender models, living as their true selves, who had long and successful careers.
Trangender models in fashion & beauty today
In 2016, there are many transgender models employed by top agencies in London, New York & Los Angeles, including Isis King & Benjamin Melzer (who are both interviewed in this article!).
Andreja Pejic is a major transgender model who has had an impressive career. I was in communication with Andreja's press contact at Storm Models in London to feature her in this article, but she was busy with a few other projects and wasn't able to join me for an interview. She has been the face of Make Up Forever, making her the first openly transgender model to be the "cover girl" for a major beauty brand. She has walked for Jean Paul Gaultier runway and many other designers. She was in major Marc Jacobs fashion campaigns. She and other major female fashion models like Hari Nef & Carmen Carrera have proven that transgender models have an important place in fashion.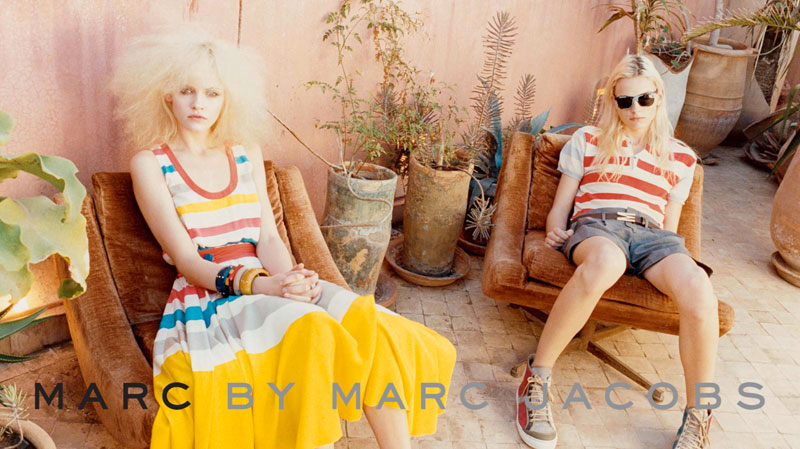 And this progress is important. Representation is part of cultural change. I spoke with Nick Adams, Director of the Transgender Media Program at GLAAD. He was recently named one of the most powerful trans people in Hollywood by OUT Magazine, and identifies as a transgender gay male. GLAAD is an important LGBTQ advocacy nonprofit that helps to guide media and entertainment to accurately portray the lives of LGBTQ people and encourages the community's visible presence in everything from TV shows, to journalism to political positions.
"I believe that trans people who are visible in the media do make a difference - in terms of changing perceptions of who trans people are. 84% of people in the USA don't know a transgender person, so everything they are learning about transgender people is from the media. I do think it's important for trans people to be represented in all forms of media, including fashion," Nick explained. "Whenever major brands and companies choose to include transgender people in marketing with a visible public presence, I think it does send a message that trans people are part of the fabric of society"
Interview: Benjamin MeLZer
Benjamin Melzer (@egoshooter) was recently featured in a major Diesel Campaign alongside Loiza Lamers. This makes him one of the most successful male trans models in the industry. I had a conversation with Benjamin, who lives in Berlin. What an inspiring (and gorgeous) guy!
What makes a great model?
Benjamin: Beauty somehow, but beauty is very subjective so I would rather say something magical. Personality! It's something in the eyes that doesn't allow you to look away. It fascinates you! When it comes to the work of a model, reliability and professionalism with the right portion of humor and fun is important!
What is your favorite part about the Diesel campaign?
Benjamin: Not to be booked because I'm trans! I got the brand and they liked my look. That showed me we're on the right path to wake up this industry.
What is beautiful to you?
Benjamin: Beauty inside and out! Putting other people's interest in front of yours. Taking care of others. Being respectful and grateful! Kindness = beautiful !!!
If you were to wear the same thing every day for a year, what would it be?
Benjamin: Depends on where I'd live :D I'm a child of tides so I'd always prefer to wear swimwear and keep myself close to the ocean but that would mean a one year vacay which I wouldn't mind but let's be honest, that's not realistic. Sooo I'd say black jeans, Chelsea boots and a white shirt. I'd keep it classy.
What's something most people don't know about you that you'd like to share?
Benjamin: I'm soooo creative! I love every kind of art and I'm interested in trying everything. When I was young I wanted to be so many different things. A lawyer, a doctor, a firefighter, etc... I guess I always wanted to be an actor to finally play all these roles :) maybe that's something I should get in to in the future.
Do you have a strong transgender community in Berlin?
Benjamin: I had no clue how many we are until I started my career and everybody reached out to me, so I guess YES. It's still overwhelming!
Why do you think gender fluid styles are becoming more popular in fashion?
Benjamin: Maybe because style has nothing to do with gender! Society made this way! People's minds are changing too. You're allowed to live like you want to and wear whatever you want to.
Do you feel FTM trans models have any unique experience that other trans models don't?
Benjamin: I guess because there are not many, the interest in us is huge. It's easier for transguys to hide, so now that we pop up, people don't know much about us which makes it even more interesting. We've seen a lot of beautiful transwomen like Laverne Cox and Andreja Pejic but there's no transguys working as a fashion model. I'm one of the first.
Were your parents supportive of your trans identity?
Benjamin: Absolutely! Not only supportive, they've been so caring. They helped me with almost everything and I'm very grateful for that. I know that's not always the case.
What message do you have for young trans people who dream big?
Benjamin: Keep dreaming big! I just read a quote that said if your dream doesn't scare you, it's not big enough. Don't let people stop you, believe in yourself and work hard to achieve your goal
Interview: Isis King
Next, I interviewed Isis King (@msisisking). Isis King is prolific. She was the first transgender finalist on America's Next Top Model (both as an original contestant in Cycle 11 and in Cycle 17 All Stars season). She is on the new Oxygen show Strut about the first transgender modeling agency, Slay Models. This makes her one of the most visible transgender models out there. And she is, of course, strikingly beautiful.
What makes a good model?
Isis: I think I'm a good model because I simply believe in my skills, have practiced them over and over again, and fully commit to the character I'm portraying for designer or shoot!
What does beauty mean to you?
Isis: Beauty is knowing your flaws and how to embrace them when needed. Your flaws are usually what sets you apart and make you special. It's about reprogramming our minds and living ourselves.
Who inspires you?
Isis: My mom inspires me, if I spend the rest off my life kissing, hugging, or giving her all my money it wouldn't be enough because she would do it for me too!
What's been your most exciting experience so far?
Isis: Going to different countries and seeing the world for work has been my favorite part. I love exploring and seeing things different then the concrete jungle.
What's something that most people don't know about you that you'd like to share?
Isis: I'm obsessed with water and that had a MAJOR part in me shaving off my hair. No excuses to jumping in the water at any giving moment! Girls and hair issues gesh! Haha.
If you had to wear the same thing every day for a year, what would it be?
My highwaist cuffed shorts from American Apparel. I have a few pair and they have been my staple for a few years already haha.
Why do you think a show like Strut is important in 2016?
Isis: ABSOLUTELY! The world needed to see just some fierce people pursue their careers.. Who just so happen to be trans.
What challenges do trans models face in the fashion industry?
Isis: Being picked! We are more then just a token. We have what it takes and the industry knows this...it's just about taking a chance on a dope model who just so happen to be trans.
Why do you think the fashion & beauty industries have gravitated towards trans models in the last several years?
Isis: I'm not sure exactly but it has changed TREMENDOUSLY since I stepped on the scene almost a decade ago. We still have far to go though!
As a trans woman of color who lives in the USA, how do you feel about our country?
Isis: For a "progressive" country we are going backwards at times. The bathroom situation, trans murders.....it's depressing! But with progress comes some chaos so we will continue to grow and be strong.
Is there something special you feel trans individuals bring to fashion?
I think we are the same honestly. Sometimes maybe some extra spice (i know I bring spice to the runway) haha.
What message do you have for young trans people who dream big?
Never stop dreaming. Dream it and achieve it because it it's possible.
My thoughts
I am so honored to speak with Isis and Benjamin for this post. We are in a time where it's crucial to put transgender voices front and center. In fashion, we have the opportunity to celebrate beauty in so many ways. And as a creative industry, we must push forward – far ahead of the rest of society.
It was also interesting, during research for this post, to recognize that not all transgender models want to be visible or open about their gender history. There are many amazing transgender models who are simply that, amazing models. And there are many trans models who will choose never to talk about their gender history – which is their right. It's not the duty of all transgender individuals to be activists. And there's power in just being and living your truth.
I also want to keep in mind that advocacy by and for the transgender community goes far beyond fashion. In 2016, there have been more than 21 transgender people killed in the United States. Transgender people are the most targeted group according to reported hate crimes, and trans people of color are the most heavily targeted in particular. That has to end.
When I spoke to Nick at GLAAD, he made the great point that reality television can be an important educational vehicle to show the world transgender people as their authentic selves and speaking in their own words. Shows like Strut, and all the people featured on I Am Cait (Cait Jenner's reality show), show the rest of America who transgender people are. Similarly, showing amazing transgender individuals in major advertising campaigns can shape our culture's mind.
I personally identified with these perspectives because I am not strictly gender conforming myself. In my speech, mannerisms, fashion, personality, and interests, I am a mixture of masculine and feminine qualities. But more on that in another post.
Now take a break and check out the preview for Strut, the amazing show that addresses all of this head-on!
Rigel Gemini