Fashion: NYFW Men's SS19 Review
NYFW is always an exciting excursion for me, especially this 2018. I managed to jam pack each day with multiple presentations, mixers and rooftop fetes, from July 8th to July 11th. We are undoubtedly seeing an overall trend of early 90's casual in muted colors with sporty details, arrays of denims and tweeds and more shorts than ever. My peek into the upcoming Spring and Summer 2019 proved retro nostalgia can be reinvented into freshness and masculinity; and comfort wear are ever evolving in the fashion world.

Shows & Presentations
Alessandro Trincone was a personal favorite of mine. Held at Cadillac House, the runway show beheld androgynous glitz and glamour. Like an airy ethereal avant-garden spun in tulle, tinsel, silver, gold and crisp bright whites, the show's essential take of ballroom gowns on men was an exhilarating moment during men's fashion week. I'd love to see more of this type of creativity in the industry and was impressed with the way Trincone was able to place unruly textural elements in a sculptural refined fashion, truly creating designs that remained fantastical instead of stuffy. Made famous by his Young Thug album cover, I'm sure we will see much more from Trincone.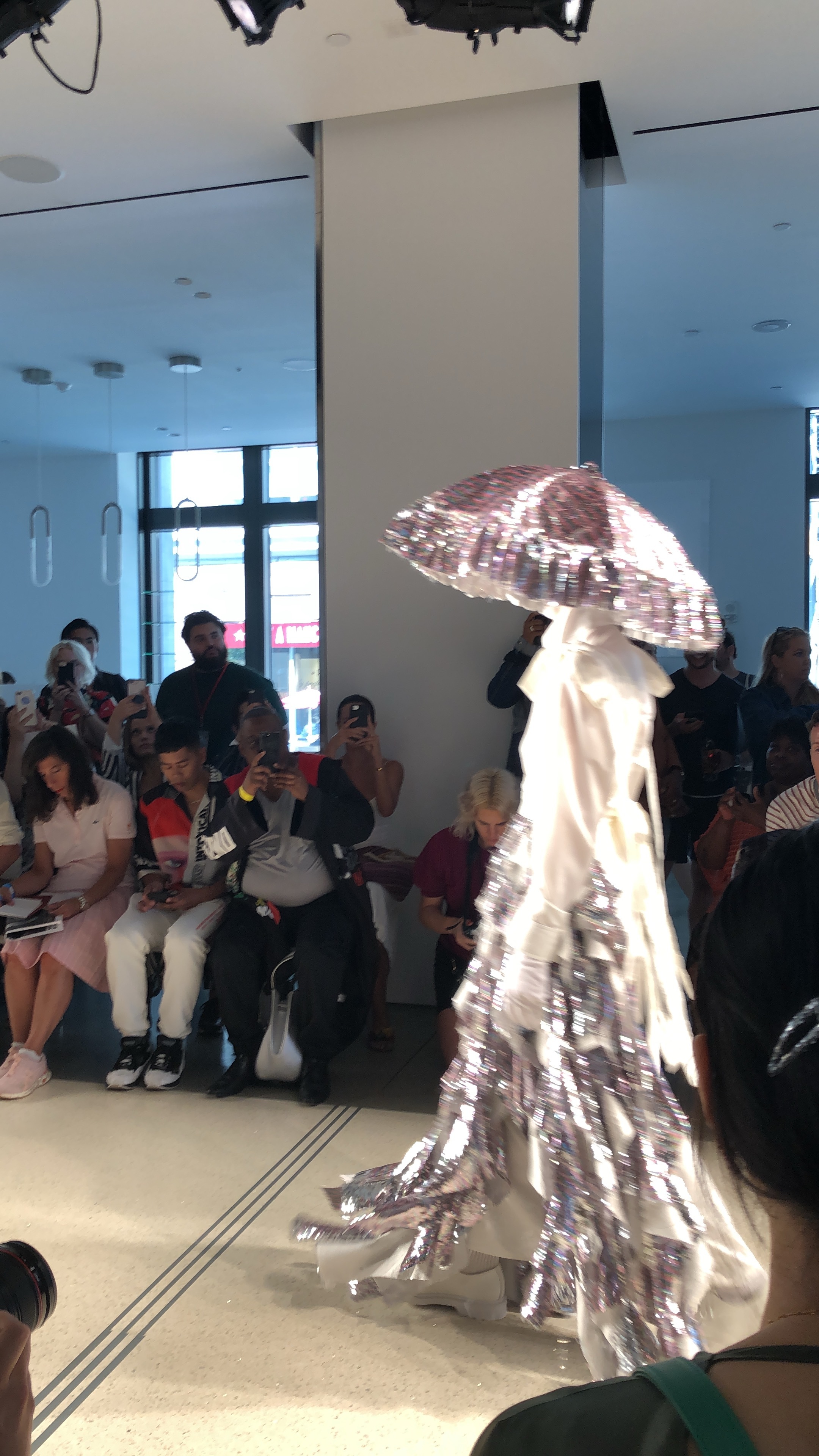 Ricardo Seco's runway at Flying Solo went for a risky management of busy patterns and clean prints to create a truly fun energy in the realm of casual street wear labels. Geared in unique vertical striped socks and Converse, the models were outfitted cohesively in optical-art-meets-ethnic-textile sets of a futuristic urban style. I was particularly taken with the designer's compassionate angle regarding immigrant support when shirts with the words "I really do care" were handed out to the guests, a counter statement to Melania's tasteless choice in jetset attire.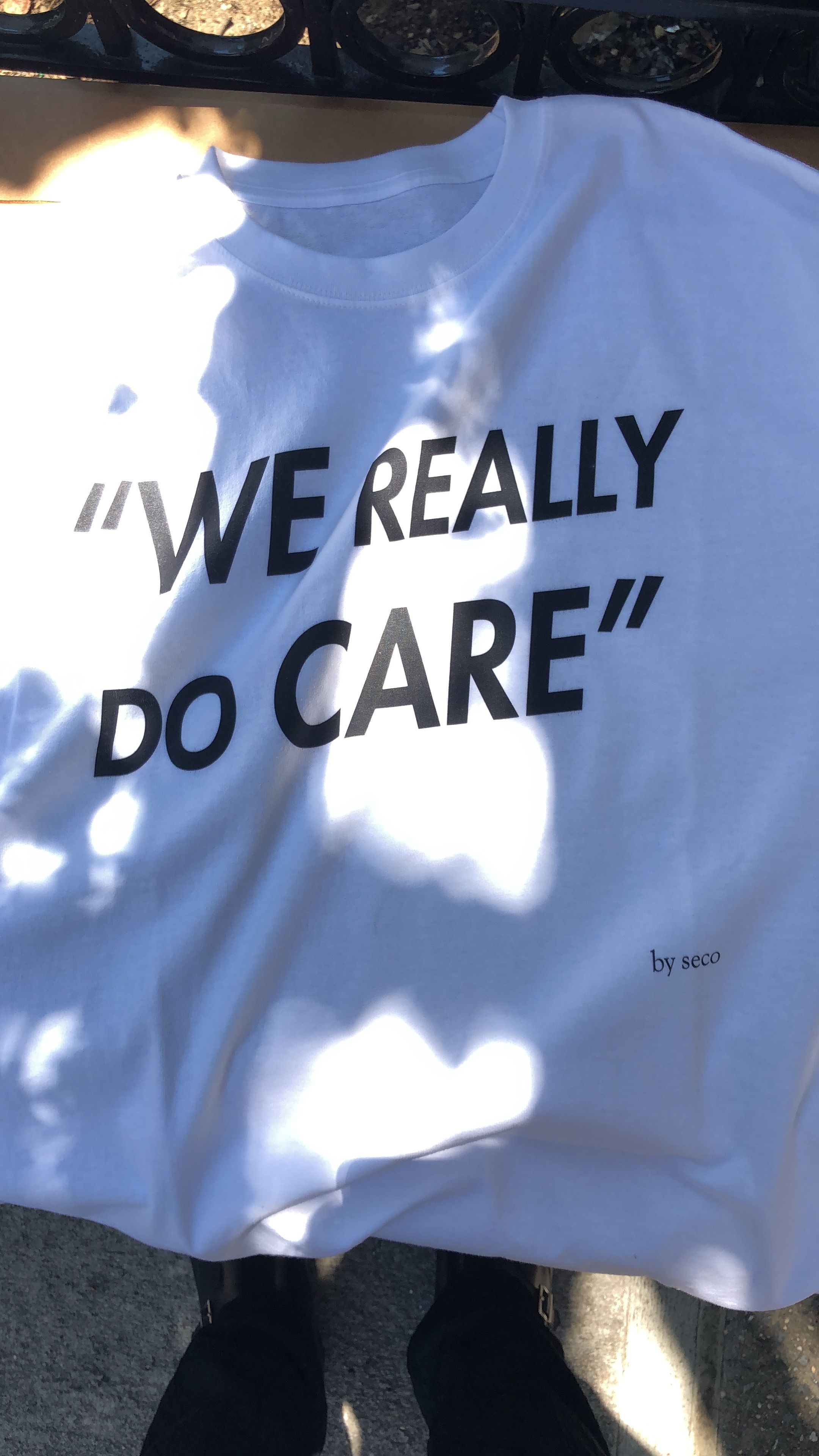 I was honored to be invited to Asos' presentation, a colorful and diverse presentation at the Azul rooftop, with a guest list of many well-respected bloggers and scenesters. No less than you would expect of the major retailer, ASOS brought a very youthful, Gen Z, new cool kid energy to the forefront that delighted and inspired the attendees. Accessorization of crisp white has been popular in many of the runways and presentations, but ASOS choose to lean more towards poppy pastels, bright jewel tones, and creamy grays, further heightened by PVC trenches and holographic bags.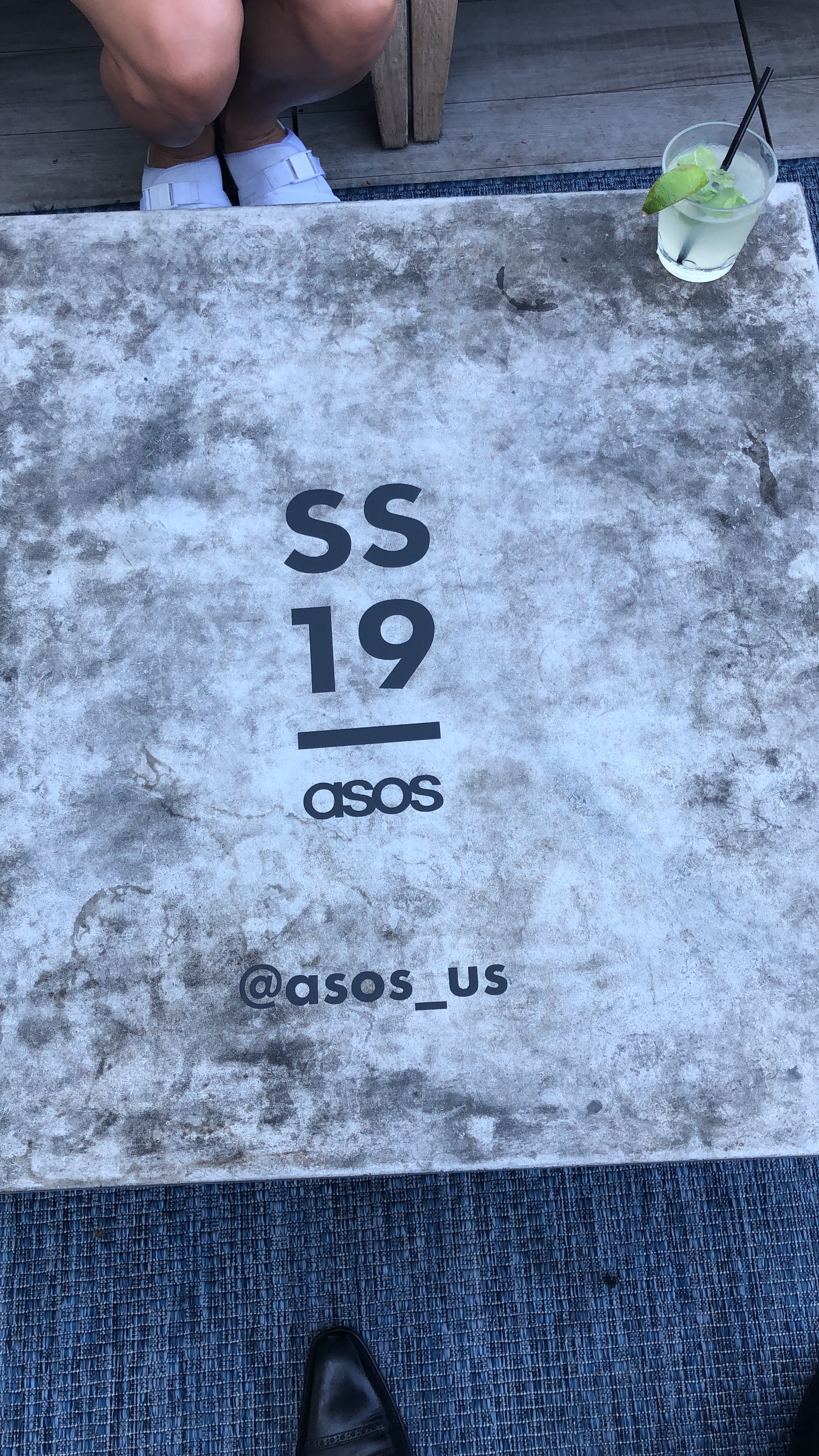 The event for Gustav von Aschenbach featured hip hop dancers who both modeled then danced after the walk. The presentation of streetwear gave a tough and bold vibe and, paired with a streamlined runway structure, truly displayed the growing individualism of GVA's direction under Robert Geller.

Men's Day Presented By Agentry PR
Men's Day presentations included new works from Bristol Studio, Limitato, Agent, Krammer & Stoudt, HBNS and David Hart.
Bristol Studio's neutral-toned leisure wear, a la hoodies, drawstring shorts and joggers, blended comfort and proportions to make for a muted but sleek approach to street fashion. Fresh pops of orange and white with grey-rose and maroons further gave this LA garment studio's current track suits and casual wear a uniqueness. The models also wore Bristol Studio's sneaker design with Adidas and the famous sports logo was incorporated with the outfits as well.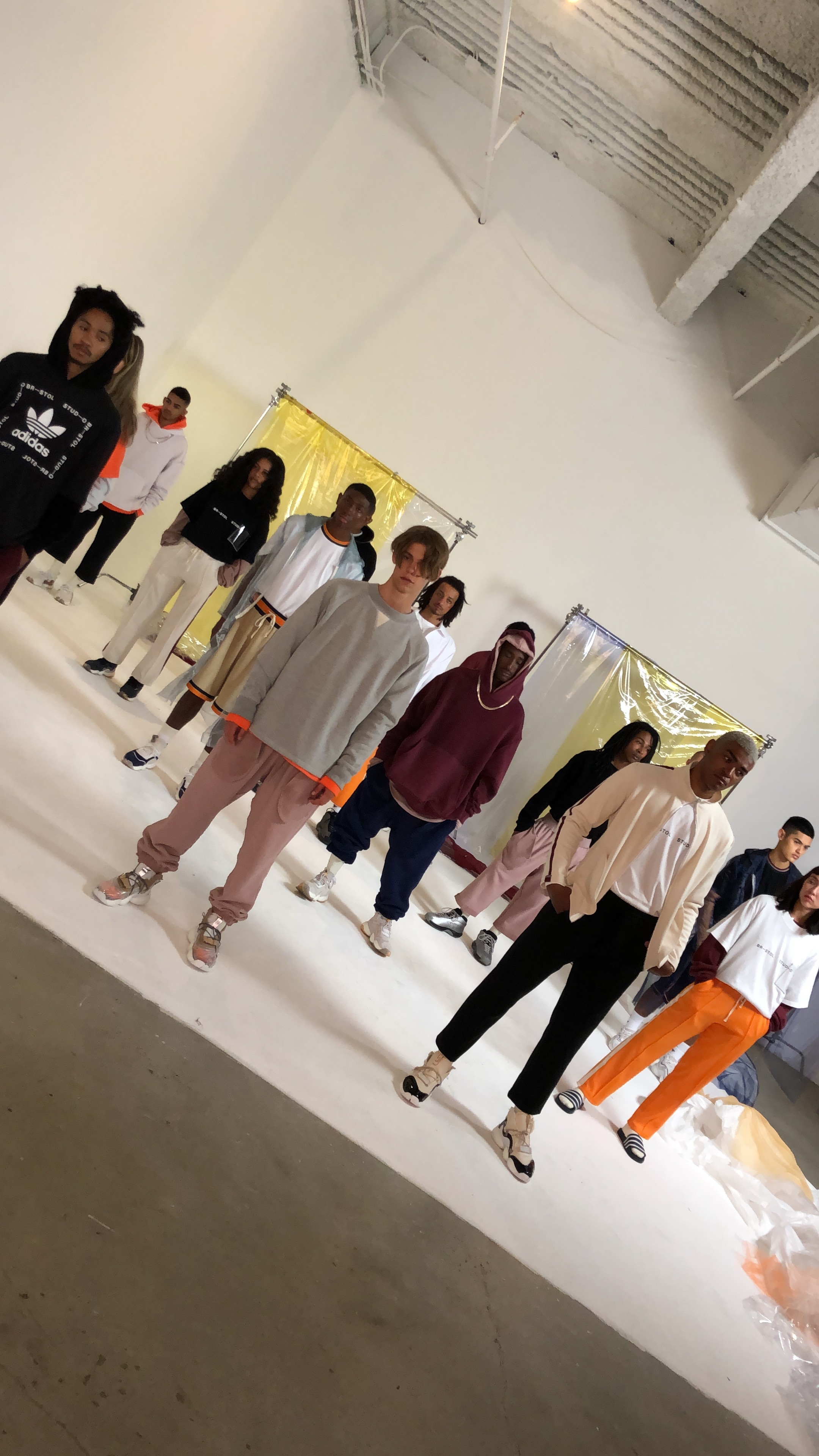 Models lounged with instruments for Limitato, mirroring the current fashions of indie goth-pop groups to showcase the wearable art the brand is known for. Slouches and sunglasses gave the skinny black jeans and black and white shirt and shoe combinations a rock'n'roll refinement the print tees deserved for this presentation. (love of french-pop, 60s and 70s icons)
AGENT
Agent followed a similar but crisper black and white motif with pops of olive brown, light denim, windbreakers, color blocks and clean linework. The color scheme reminded me a bit of preppy 90's fashion, edged by the smoldering eyeliner on the models, with hints of 1950's in the color blocking of the polo-style shirts, all interesting elements for a clean approach to a casual line.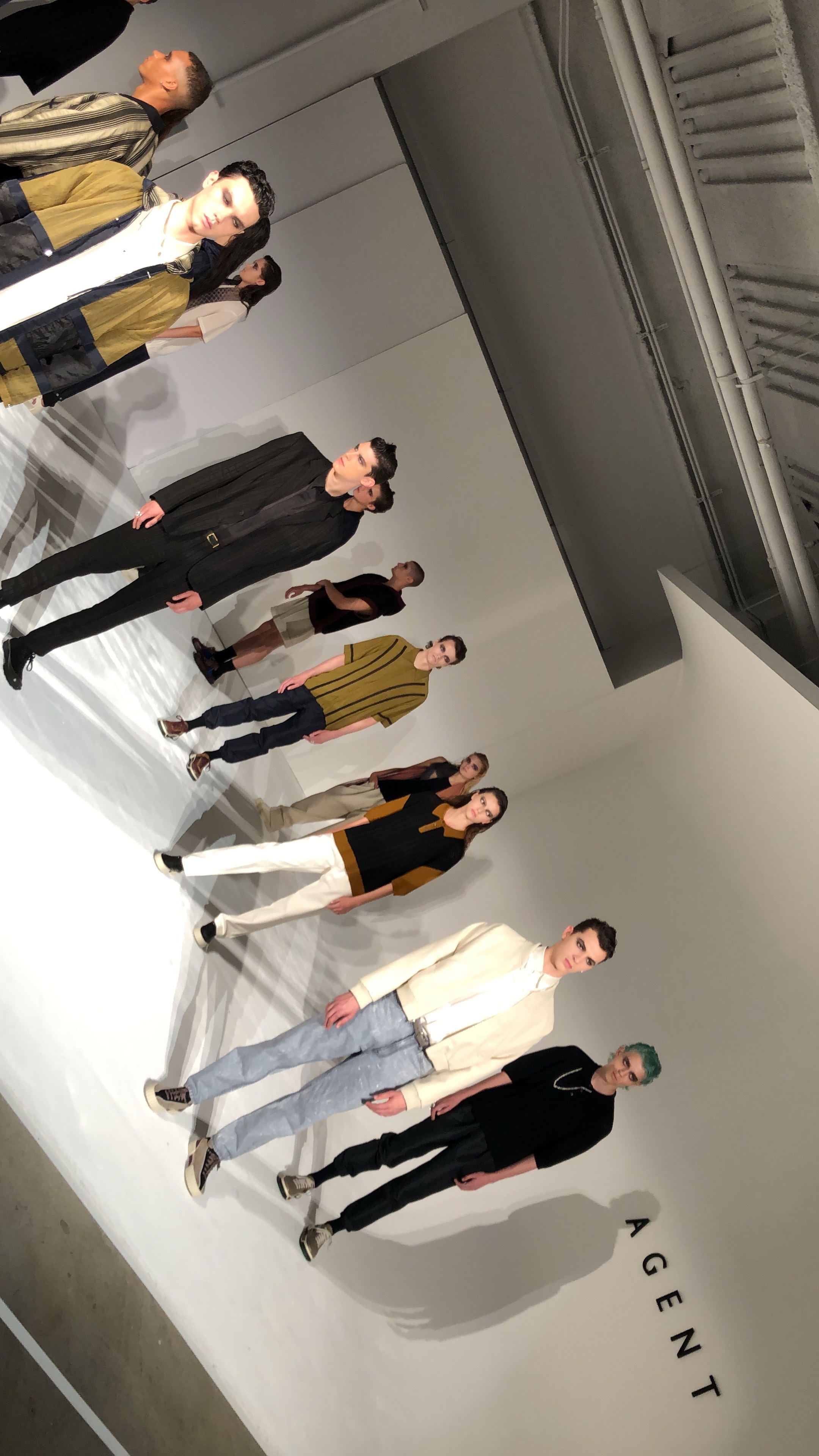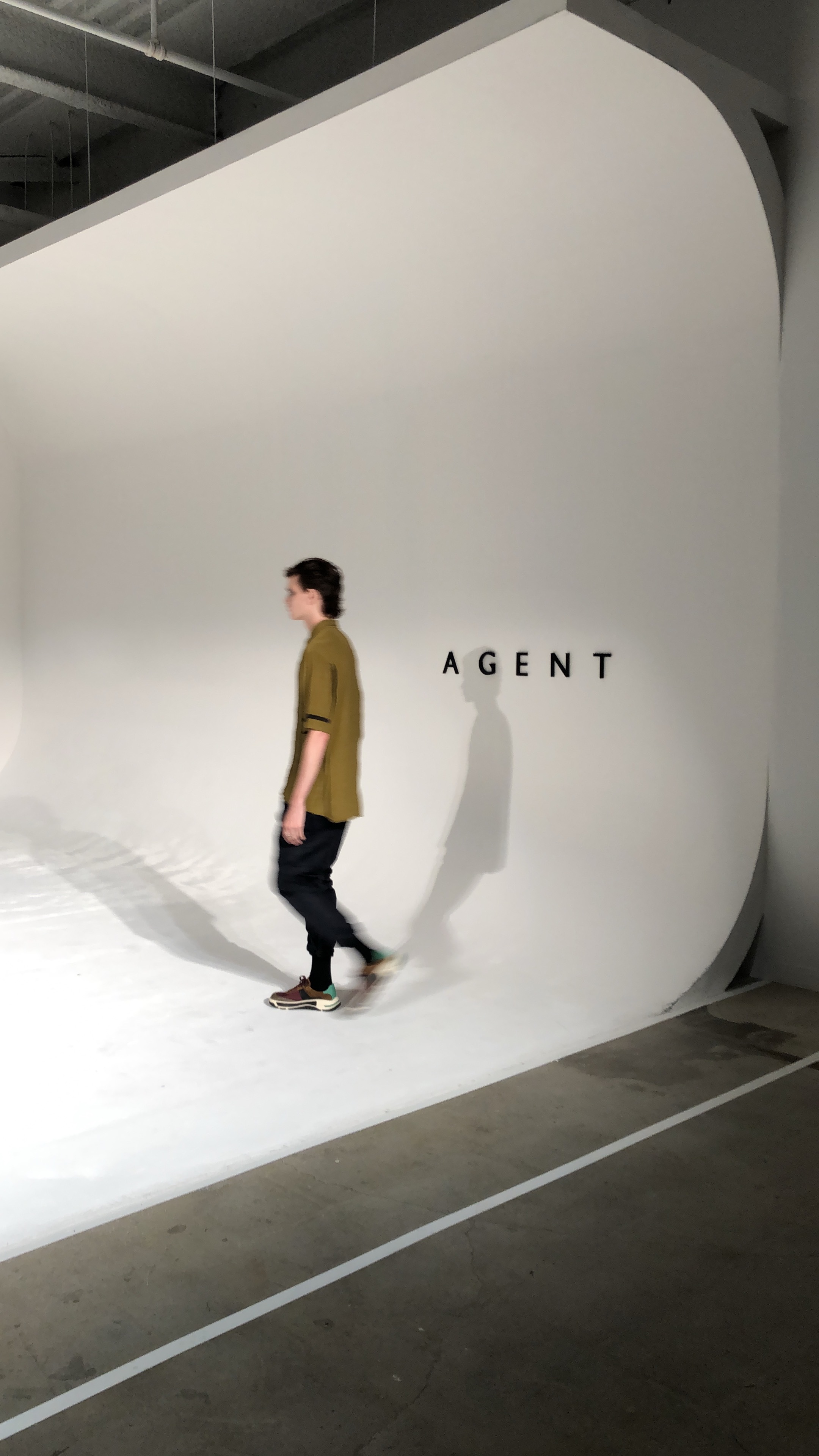 Short-sleeved button downs, thin tweeds, plaids and greys and charcoals with the theme at Krammer & Stoudt. With the models donning porkpie hats and wide brimmed fedoras, touches of cream and white sneakers (with the exception of navy Chucks), the vibe was reminiscent of a similar 1950's tailorship to Agent, but with touches of boheme in the breathable structures and textural lightness of the fabrics.
Love this designer straight from Japan! HBNS had a full on art school approach. Not only were the props step blocks, ladders and bright work lights, the paint splatters and watercolor washes displayed on the clothing brought the brand's array of denim, button downs, khaki and whites an imaginative element to styles "normcore" has brought back into the fashion world.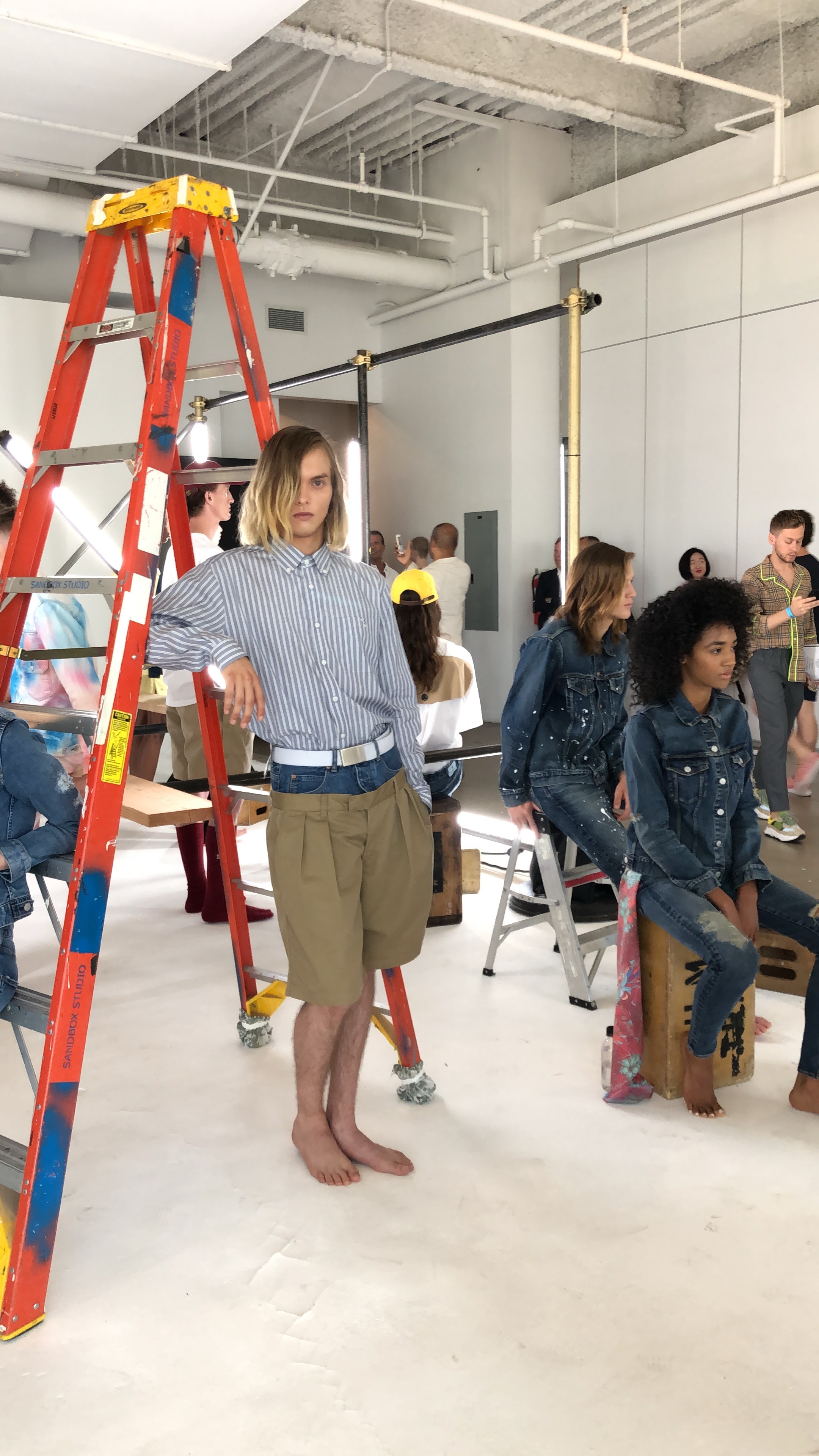 Finally some suits! The '70's flair of larger lapels, polyester sports sets and touches of stripes with browns, rusts, polka dots, plaid and high socks was a fun repertoire from David Hart. I thought the glittering silver dress shoes were a striking detail to this line of retro fantastically tailored luxury wear.

PARTIES
VFILES held a party in their hip store and partnered up with Diesel as a sponsor for an energetic event that amped a huge crowd in the lofty all white SoHo space. As a company that has always been in the know of ever changing street fashion, their emphasis on logos for t-shirts, hats and accessories remained true to brand on the displays.
Even though I did not experience to the Parke & Ronen runway show, I am excited about their new Spring/Summer 2019 contemporary takes on candy-colored pastel Malibu '80s prep and beach hunk looks. The incredibly LA collection hearkens to a certain masc confidence that is a touch sass, not too over-the-top, but above all fresh. This same spirit permeated the party, which was the gay fete of the week!
Last but not least, the underground success of the week went to basketball's most stylish Kelly Oubre Jr and his support of men's fragrance brand, Hawthorne. This collaborative introduction for the new scent, "Barbershop" was appropriately held at Astor Barbershop, a definitive "in the cut" event, boosting old school cool with updated casual styles that are redefining ideologies surrounding masculine culture of today.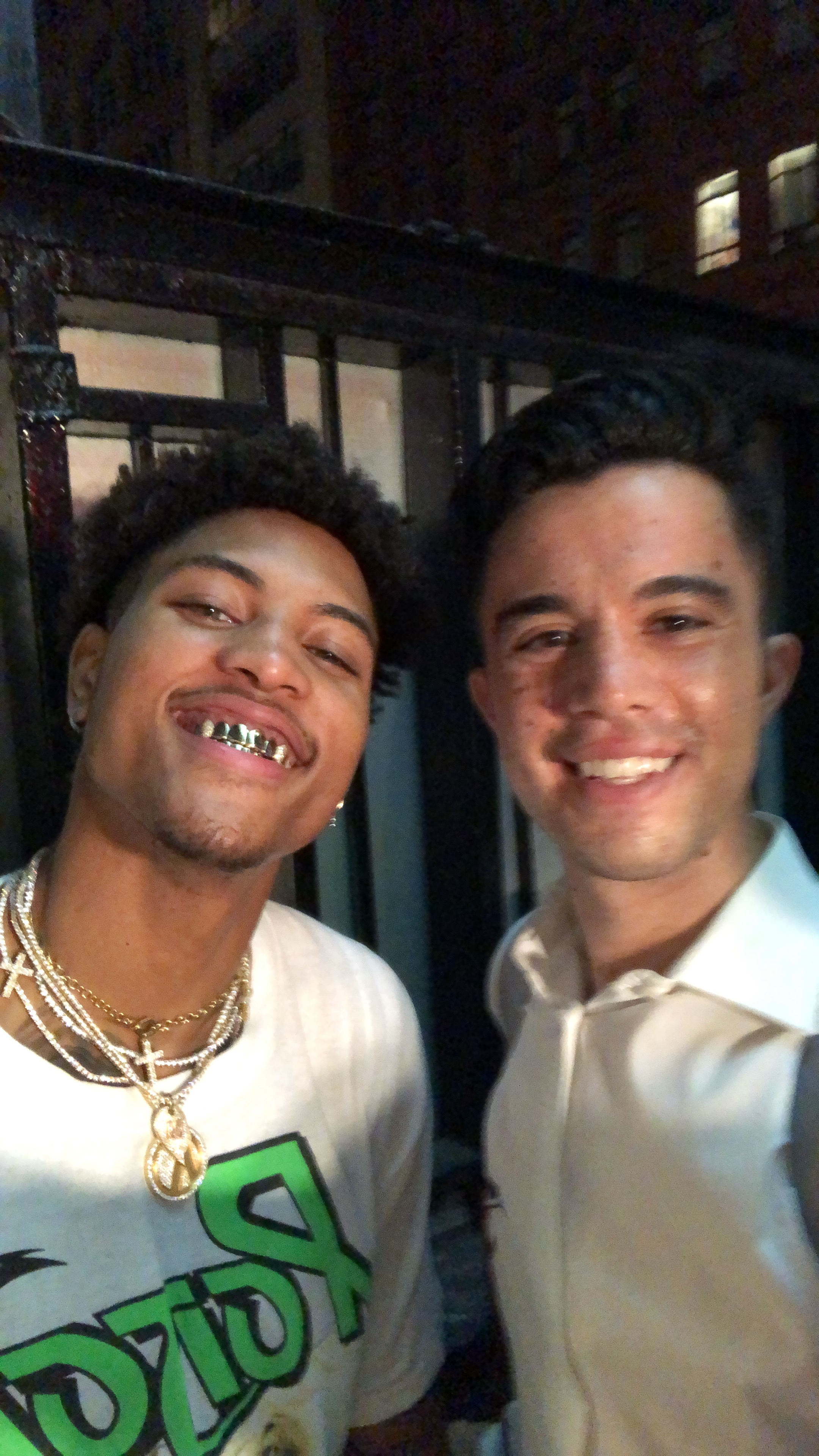 Rigel Gemini